Okay, I have been stuck in the land of 270ish FOREVER!!!! Almost two months to be exact, I'd move back in forth 278 to 275... then finally 275 to 272.... last week I finally hit 270 pounds and I was just ecstatic. It was my first time to actually hit 2 - 7 - 0. I pumped up my workouts and tried a new workout (Turbo Jam, gotta love it) and today, what do I see on the scale???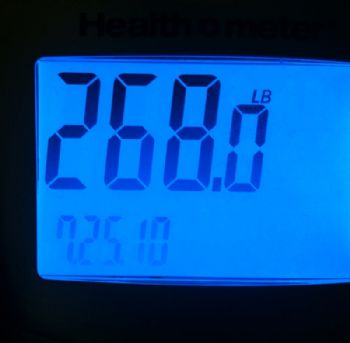 Yes, that is right... 268 pounds!!!! Oh yea, that means I have lost a whooping 62 pounds since January 1st! Woo-hoo!!! I am feeling stronger, emotionally and physically and I see my body changing. Sure, there are plenty of things I could pick apart but I remind myself, I am healthier than I have ever been as an adult and I am working on me, which also means loving every bit of myself.
Right now, I just want to enjoy the fact that I have finally busted through the 270's which means I am moving again! I am literally on cloud nine and cant wait to hit the 75 pounds gone.
To make this a little fun:
I have officially lost 200 sticks of butter and a bald eagle .... or
5000 BTU Air Conditioner, a Chihuahua and a rack of baby back ribs .... or
A small bale of hay, a human head and an ostrich egg
I am excited and of course, you know I am ready for a workout! I think I will take my bike out for a nice cruise! Thanks for celebrating with me!!! Woot-Woot!
Houston, she has left the building!!!