Friday morning when I woke up, I was sore from all the shoveling on Thursday but I wasn't going to let that stop me. I had another idea this morning and knew that I would be building a raised flowerbed. I was at Home Depot by 8:00 am. I received great service and was even served coffee, wow, I might need to come to Home Depot every morning! I explained to Mark what I wanted to do, drew a little diagram and told him I had no clue of what I was doing. Before you know it, I am leaving home depot with decorative stones, rebar, top soil, garden soil, a drilling hammer; and flowers. I can't wait to make it home and begin my project.
Before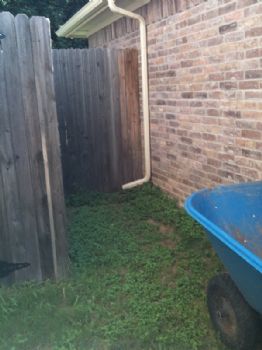 During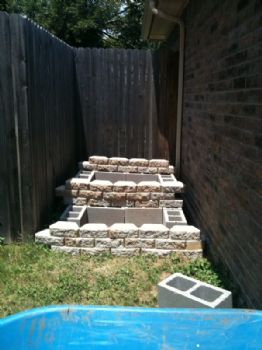 Finished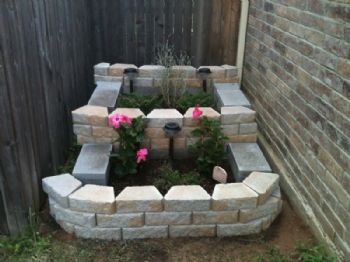 WOW, I did that, can you believe it?!? Thanks to my Dad and my brother for letting me borrow a coal chisle to score and cut my bricks for the perfect fit. Friday was a success! Just another day of hard work and a girl determined to tackle a project. What a workout, 12 hours in the yard, digging, moving bricks, hammering in rebar, moving bricks, filing holes with sand and excess dirt, moving bricks, planting flowers and did I mention, moving bricks? It took me few times to figure it out exactly but I think it turned out great.
On Saturday morning, I didn't think I would be able to move, but I did. My son and I head back out to Home Depot and to Lowes for additional supplies, pavers, sand and a retaining edge. It was great having a helper.
We get home, unload our new materials and dig in, literally! We dig out a complete 4x6 area that was about 5 inches deep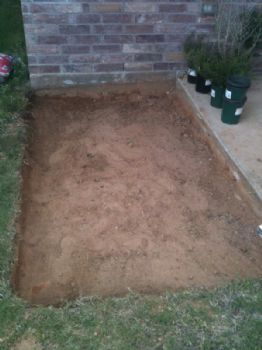 install the retaining wall, level and pack the ground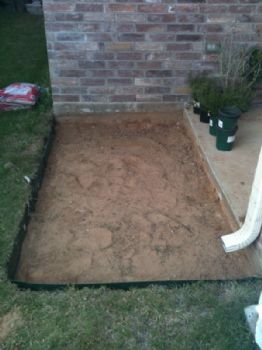 We add sand and level that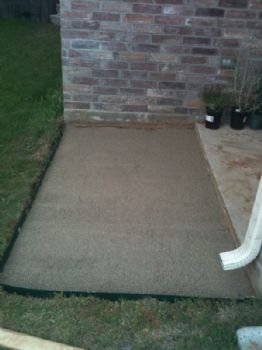 We finally begin to add the paving stones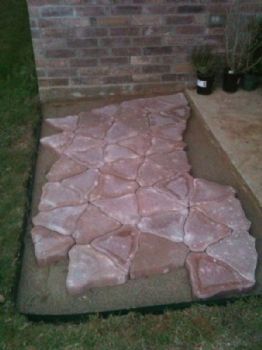 Now it's time to cut strait lines and right angles... oh no, I don't think I can do this. Thank goodness my father is great with Math and measurements, he came over and helped me figure out my right angle. When he left, I began to score the brick and oh no, the brick crumbled, I try another and another... oh no, they all crumble. At this rate, I am ready to scream. I call my Dad again, and he suggest I call it a night and ask Lowes how to cut the brick tomorrow. I take his advice.
On Sunday, I decided to forget it, I would return the brick and buy a brick that has a strait edge. I looked online at bricks at Lowes and Home Depot. I do a little math and calculate how many new bricks I will need. My son and I load all the paving stones back up and head back to Lowes. Of course, no one could tell me how to cut the brick. In frustration, I decide I will not buy the bricks from Lowes and head back to Home Depot. Before you know it, I am headed home with my new supplies, my son and I both looked at each other and said, we are almost done!
The new brick I purchased was 4 inches thick, we had to dig out a lot of sand from our work area. After doing so, we wet the sand and leveled it back out, we begin to install the bricks, creating a pattern, there are a few adjustments we need to make. My Son scores and cuts a few bricks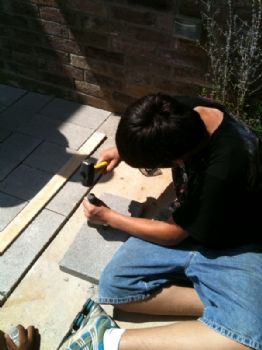 I score and cut a few bricks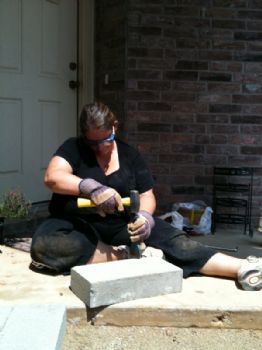 Row by row we are so close to being done and then it happens: ONE BRICK SHORT! NOOOOOOO!!!!! NOOOOOOOO!!!!!!!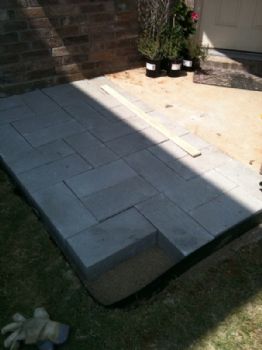 My Son urges me to wait until Monday but of course, I can not rest until this patio is done! Back to Home Depot, one last brick!!!
I make it home pretty quickly, we pop in the brick, pour sand on top of the patio, fill the cracks and sweep it off... we are done!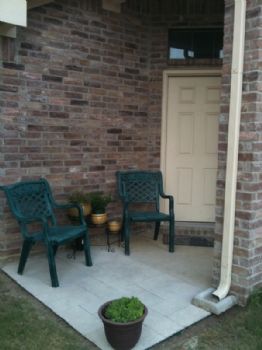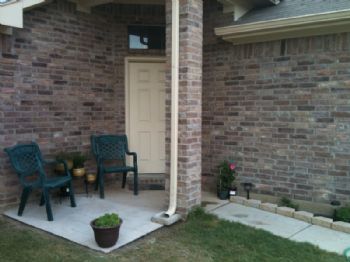 4 Days, 34 laborous hours, 9 trips to Home Depot and Lowes, umpteen houndred pounds of brick, 6 hours of shoveling, 4 hours of leveling, 20 gallons of water and one small project idea later.... we were able to kick back and enjoy our new porch.